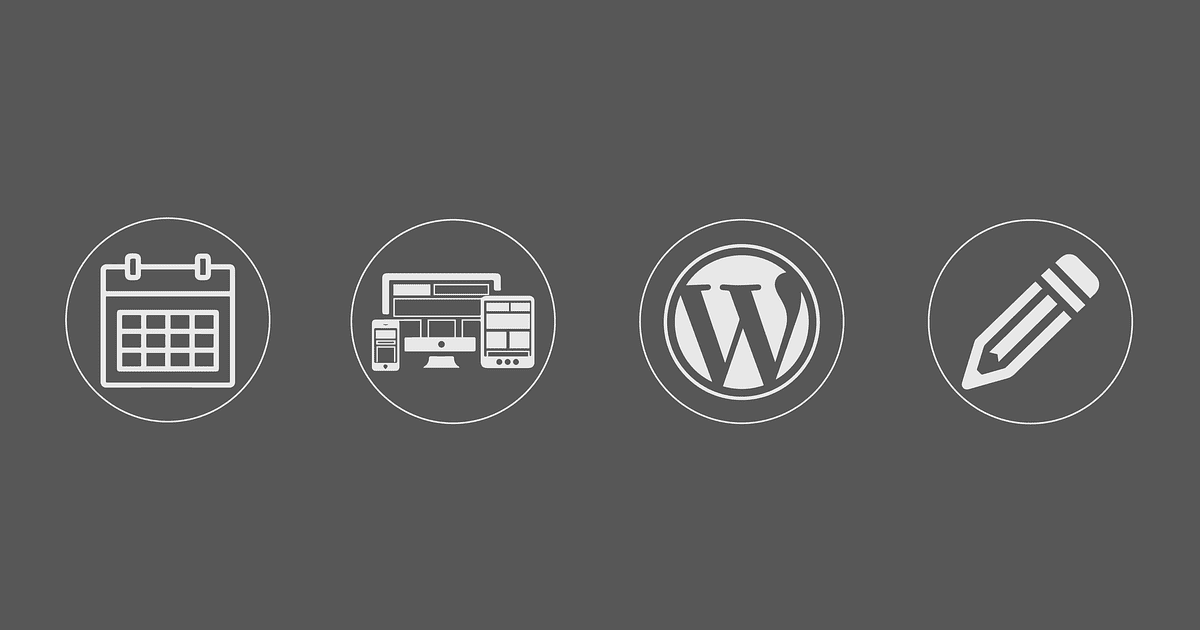 A Company's Guide to the Benefits of WordPress
Posted on June 04, 2020
Executive Summary

Why should you be interested in learning more about WordPress?
WordPress is the fastest growing CMS (content management system), with roughly 500+ new sites being built daily.  Seventeen posts are published every second on WordPress sites around the world. WordPress powers 14.7% of the top 100 websites in the world.
This white paper outlines the advantages of the WordPress content management system and how it can assist companies, businesses and organizations.
The problems affecting websites without reliable content management systems include difficulties for employees making small updates or changes, decreased employee performance, costly onboarding, poor user experience and expensive updates to the website.
Using facts and statistics, this white paper lays out key elements of using a site backed by a WordPress content management system. Before going over these benefits, this white paper defines a content management system as well as what makes WordPress different from other content management systems.
The benefits of using WordPress include its ease of use; administrative functions and permissions; pre-programmed plugins, which give websites new capabilities; and scalability for growing companies.
While the intuitive nature of WordPress makes it easy to keep a website running, A + L DEVELOPMENT has years of experience with installing and maintaining websites using the program. A + L can even take existing content management systems and migrate them to a WordPress platform.
Alleviate business content problems by choosing WordPress

Today's businesses face many challenges when it comes to maintaining and organizing content. Company websites become outdated when employees are unfamiliar with the system. Tech-averse managers are unable to publish insights about their field to a blog. An administrator might even call an IT professional to simply change the date in a calendar.
For many businesses, these problems are all too familiar. Organizations try to get by with the same website they first commissioned 15 years ago. Changes must be made manually, often with the help of someone who specializes in frontend coding practices. Teaching new hires a complicated CMS takes time away from onboarding and training. Often times this results in poor user experience, diminishing sales and leads.
Luckily, many businesses have already taken advantage of content management systems, a software framework that enables company officers to make content changes without having any background in website development. The most popular of these is WordPress. Businesses can use WordPress's many features to solve a number of problems in generating and maintaining content.
Organizations can prosper after switching to WordPress from their previous static HTML-based website or CMS. The software is intuitive and requires no programming knowledge to maintain. Its open-source structure allows for additional components to be easily added to websites. Companies can provide their employees with multiple levels of access, and websites can be scaled based on business activity.
Organizations who switch their current website's framework to WordPress will see productive changes both within their organization and with online users. This is why 34 percent of all websites run on WordPress.
What are content management systems?

A content management system (CMS) is a software package that provides access and automation for tasks required to manage content effectively. This software attaches itself to the backend of a website's coded index.
CMS applications usually interact with a server to provide its software to multiple users online. Users granted access have the ability to create, edit and organize content. While an intimate knowledge of coding is not generally needed for administrators to update websites, certain applications may require coding skills.
Third-party enterprises have created the most popular examples of this software. These include companies like WordPress, Joomla, and Drupal. "Software as a Service" (SaaS) providers, like SquareSpace and Wix, include perfunctory versions of content management systems, but fit mostly outside of this category. A business can also hire a development firm to build a custom CMS for its own needs.
What is WordPress?

Developers Mike Little and Matt Mullenweg created WordPress in 2003 to provide a refined and organized publishing system for their blog. It has evolved into a platform where people with limited IT experience can utilize the program's dynamic interface in multiple ways. As WordPress is open source, developers can modify the program and redistribute it for free.
WordPress's backend programming can be attached to frontend indexes, and users can upload appearance themes to their websites. Users can install additional independent functions called "plugins" to provide new or enhance existing features on their website. Site administrators also have the ability to manage access within the organization.

There is no CMS that is easier to use

When it comes to third-party CMS applications, none are easier to use than WordPress. WordPress websites can be easily adapted for personal websites, blogs, ecommerce, media outlets and entire networks. Companies and organizations can upload a pre-existing theme or hire a developer to create their desired frontend appearance.
WordPress is intuitively designed to make changes quickly and easily while maintaining a professional appearance. Well-known breaking-news outlets such as CNN, USA Today, NBC and New York Post all use WordPress to organize their stories and archives.
While WordPress does have its competitors, users overwhelmingly prefer its convenience and adaptability over others. With nearly 30% of the internet's top 1 million websites running off of WordPress, it has far surpassed competitors like Drupal, Joomla and Magneto in the market share. WordPress is more adept than any other platform for companies to get their websites off the ground because of its user-friendly interface.
As other software companies expect their users to have some experience with a backend coding language to implement the software most effectively, sites made with them can be difficult to maintain. These CMS' have taxonomies, or categorizations of content, that can be complicated to organize. While they allow for greater customization, employees must either be familiar with the system or be trained to categorize their entries. Drupal itself acknowledges the inefficiencies of its authoring system, including differentiation between the preview and live versions and the absence of effective editing tools.
WordPress also provides more structure than SaaS providers. SaaS applications have little structure and essentially rely on the user to place information in image or text boxes. These types of providers are more useful for portfolios or landing pages than for content-driven websites. Unlike SaaS providers, WordPress does not require hosting on their platform, which saves companies money.

Take advantage of WordPress' administrative levels

WordPress grants four levels of user management called "Roles." "Administrators" manage the site; "Editors" can add and make changes to content; "Authors" can create content; "Contributors" can write on certain pages of the site without publishing capability; and "Subscribers" can manage profiles related to the site.
This comes in handy for businesses that need different divisions of access depending on company hierarchy. IT and high-level managers can maintain and work on behind-the-scenes aspects of the site, while content managers and freelancers can add or modify pertinent information on the website.
Companies who apply WordPress user roles ensure employees and customers do not have more control than they need. The number of top administrators can be limited while providing full access to lower positions without impeding their ability to create and publish content. This helps in maintaining a cleaner and more secure workflow.
Plugins make adding features to websites simple


Third-party developers can create plugins, add-ons that administrators can install onto any WordPress application. These plugins give WordPress additional features. Plugins allow for a business' website to utilize forms and surveys, link analytics accounts, subscribe to mailing lists, boost SEO, and create backups in the event of a loss. Businesses using other websites would have to find and add the code by themselves, or pay for a developer to make a custom API.
More than 50,000 plugins are available for download in the WordPress directory, and many are free to use. So far, more than 1.25 billion plugins have been downloaded.
The sheer number of plugins available means that businesses do not have create custom features on their websites. There is no need to hire a developer or take up the IT unit's time as a plugin has already been created for nearly every function. Plugins can also be deactivated and uninstalled if a website evolves and no longer needs them.
Any WordPress website can scale up for its audience

WordPress's out-of-the-box style of programming makes it easy for businesses to scale up their web presence quickly. An organization does not need to allocate resources to add and test new capabilities as it is easy to customize the layout, install plugins and increase functionality.
In addition, WordPress guarantees every piece of code generated for its programs is fully W3C compliant. This means the website will work in all of today's browsers as well as the next generation's like Google Chrome, Firefox, Safari, Opera and Internet Explorer.
WordPress also alleviates common issues while scaling up, including mobile responsiveness. If a WordPress theme is not mobile responsive, there are a number of plugins that can give the website that capability. There's no need to worry about programming or reprogramming features while upscaling to a higher quality site.
A + L is a WordPress partner

While WordPress makes it possible for companies to do all this themselves, an experienced partner will make the transition easy and stress-free. A + L DEVELOPMENT has been working with CMS programs for more than a decade. While A + L has built multiple custom CMS applications, the company has recognized that WordPress is better at providing for its clients' needs.
A + L DEVELOPMENT can build a WordPress theme from scratch or even migrate a business's current website to WordPress core servers. This includes companies with existing content management systems hosting thousands of content pages.
WordPress is the best CMS for business websites

WordPress CMS is the most effective application to display and manage company content. The ease of use allows non-IT employees to learn and use a website to the best of its abilities. Administrative controls create a tiered system to ensure who manages what, and who has access to every area of the site. Plugins put limitless possibilities on what a website can do for SEO, analytics, inbound marketing and more. Plugins, combined with intuitive engineering, mobile responsiveness and W3C compliance, guarantee that a website can grow so it can be seen by the largest possible audience.
Businesses with more questions should contact A + L DEVELOPMENT. Its aptitude with CMS software and hands-on process allows companies to continue to do what they do best while having as much input as desired. To learn how A + L DEVELOPMENT can work for business, visit aplusldevelopment.com or call 201-455-7587.